Tom: Fox Business Network 是Fox News集团下的一个从属电台。在政治立场上属于右翼,同时在共和党内比较有影响力。 事实上现任总统川普基本就是看这个电台来获取信息。他只看这一个电台也常会提到这个电台。同时这个电台也有和自己立场相投的连带群体。比如在和Xin问答后,请来的Hudson Institution的Michael Pillsbury,都是现任总统的支持者。 可以说它在美国一小部分人里是非常有影响力的一个电台。
Fox Business Network is a subordinate radio station under the Fox News Group. It belongs to the right wing in the political position and is more influential in the Republican Party. In fact, the current president, Trump, basically watches this station to get information. He watches only this news channel and often mentions this channel. At the same time, this station also has a group of people who share similar views. For example, after Xin's interview, Michael Pillsbury of Hudson Institution was invited for a talk who is a supporter of the current president. It can be said that it is a very influential channel in a very small number of people in the United States.
我们做了一些数据调查1,可以让大家进步一了解Fox News和它从属的Fox Business Network 电台在美国社会的听众结构。 从整体人数上来讲, 虽然在过去的一年中, Fox News prime time 的收视率有所提高,但是也只是占全国人口的1%。与其他三个老牌电台比,ABC world news tonight 和NBC nightly news 黄金时段观众都是Fox news 的三倍。 CBS evening news 在黄金时段的收视率也是fox news 的二倍。 所以Tom说的在一小部分人里有影响力的电台是有依据的。 那么究竟是怎样的一小部分人群呢? 我们来看看下面包括政治观点及观众人口统计的基本数据。 因为没有Fox Business Network 的细节数据,我们使用Fox News 的整体数据来代表这一电台普遍的人群特征。 同时我们还和MSNBC电台做一个对比。
We collected some secondary data to help our readers better understand the demographics of Fox News and its affiliated Fox Business Network viewers in the states. In terms of the overall number of people, although the ratings of Fox News prime time have increased in the past year, they only account for 1% of the national population. Compared to the 3 main channels, Fox News is still behind. ABC world news tonight and NBC nightly news have three times prime time viewers than Fox News. CBS evening news have also twice of the viewers than fox news in prime time. So this proves what Tom describes as "influential in a small group of people". So how does this small group of people look like? Let's take a look at some basic demographics. Because there is no detailed data from the Fox Business Network, we use the overall data from Fox News to represent the general demographics of this station. At the same time, MSNBC data is provided as a comparison.

年龄分布: 观众50% 都是50岁以上的人群,这和MSNBC没有太大差别。
Age distribution: Majority are 50 years or older, not much difference between the two channels.

种族分布: 观众74% 都是白人,比MSNBC稍稍高一点。
Ethnicity: 74% are white, slightly higher than MSNBC, not a big difference.

社会经济状况: 大部分是中产或之上的人群,与MSNBC差别不大。
Social Economical status (self-reported): majority is middle class or above. Not much difference between the two channels.

受教育程度: 在这方面可以看出比较大的差别。Fox News 70%的观众不具备大学以下文凭。 明显MSNBC的观众在大学和大学之上的比例远超出Fox News.
Education level: this is where we start to see a big difference. 70% of fox news viewers have below college level education, whereas MSNBC has a lot more viewers with college or above education level.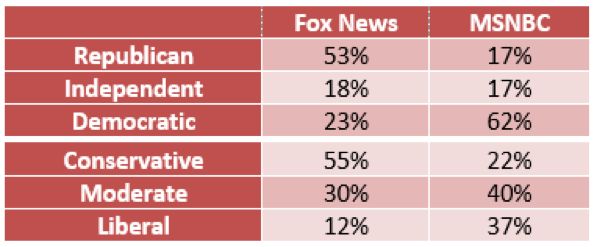 政治党派: 当然两台最大的分歧还是在政治取向上。
Political affiliation: of course, most prominent difference lies in political views.
"